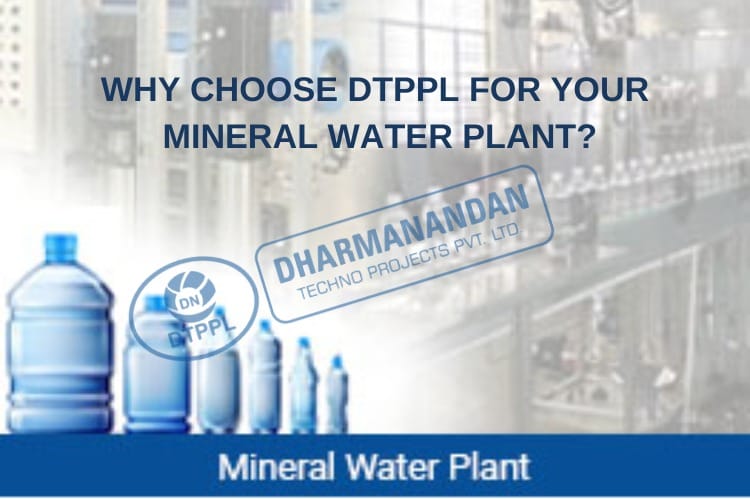 Why choose DTPPL for your mineral water plant?
Dharmanandan Techno Project Pvt, established in 2011, is a well-known manufacturer, supplier, and exporter of mineral water treatment plants, carbonated soft drink plants, juice production plants, reverse osmosis systems, water softening plants, labelling machines, and much more. The team is composed of highly qualified experts in water treatment & mineral water packaging machine that apply exclusively advanced water purification and packaging technology. Our knowledgeable engineers designed and constructed all our productsusing optimum raw materials and the latest machinery.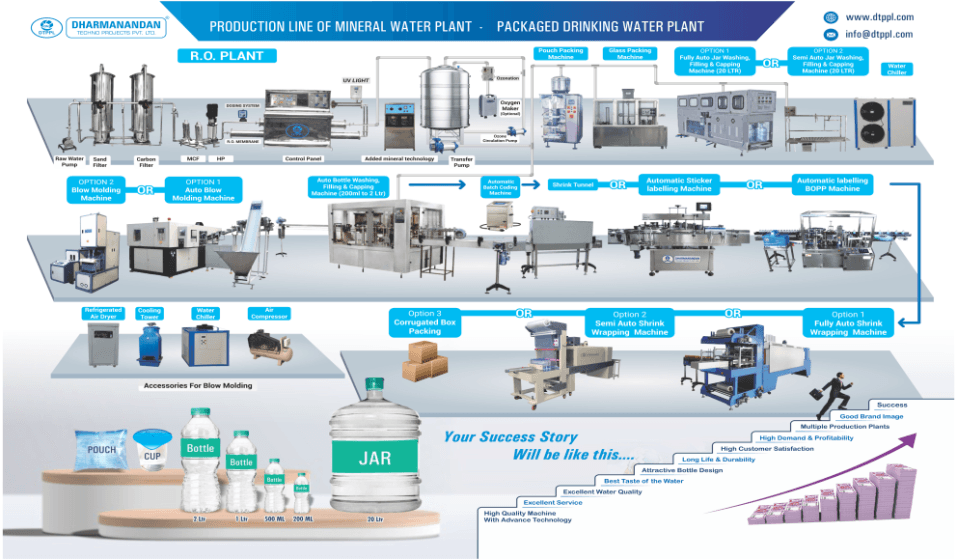 It is a prestigious brand with many core values, such as customer delight, commitment, integrity, relationship and innovation.
Dharmanandan Techno Projects Pvt Ltd. Duly qualified and experienced technocrats originated it in the realm of Water Treatment, Manufacturing, and Packaging. We offer a wide range of products like mineral water plants, Pepsi pouch making machines, jar washing machines, mineral water pouch filling machines, automatic blow moulding machines, Manual Batch coding machines, and much more.
A team of trained members are there to provide our customers with end-to-end services, from plant design to getting an ISI and FSSAI license. Their main objective is to deliver high-quality products to their respective customers. Let us understand why DTPPL is the best choice for your mineral water plant.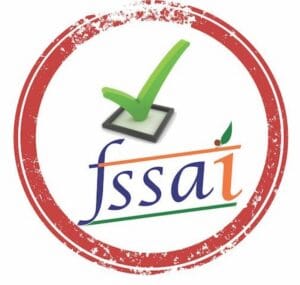 1. It's an ISO 9001:2015 certified company.
2. It has an in-house R&D department.
3. It has an in-house manufacturing faculty.
4. DTPPL has several years of experience providing appropriate services.
5. It has a team of well-qualified professionals.
6. DTPPL has deficient maintenance and clear quality control check.
7. It indulges itself in using modern equipment and round-the-clock service.
8. DTPPL has state-of-the-art technology.
Their mineral water plant and projects are ideal for all industry-specific needs and are available as standard and custom designs. DTPPL focus on delivering world-class mineral water manufacturing machine and installation services. The mineral water plant and manufacturing company are backed with a wide range of equipment to carry out the process successfully.
CONCLUSION
DTPPL will be highly admired, respected and recognized as one of the top companies in our segments due to its effective services. DTPPL's manufacturing facility is constructed and spread over 25,000 square feet. This facility will be environment friendly and will be equipped with world-class technology along with state-of-the-art latest technological manufacturing machines. DTPPL is one of the top technological companies yet environmental friendly. The work culture is smooth and employee-friendly, with its corporate office in Surat.