Automatic Shrink Wrapping Machine
Automatic Shrink Wrapping & Packaging Machine Manufacturers
DTPPL's Automatic shrink wrapping machine is suitable for wrapping various size containers. The advanced technology model having PLC controlled of each function ensures excellent shrinking. This model has standard parts to ensure that the operation of the machine is stable and consistent.
Synchronized modular conveyor system which is converted bottle into to desired matrix form automatically.
Sealing Head having sensor system prevents mistakes while sealing & protect operator. The wrapper opening can be precisely adjusted based on the size of the container packaged.
Shrink Tunnel having intelligent temperature controller allow the accurate heating temperature inside the tunnel. Fast Cooling System ensures the perfect shape of finished products after shrinking.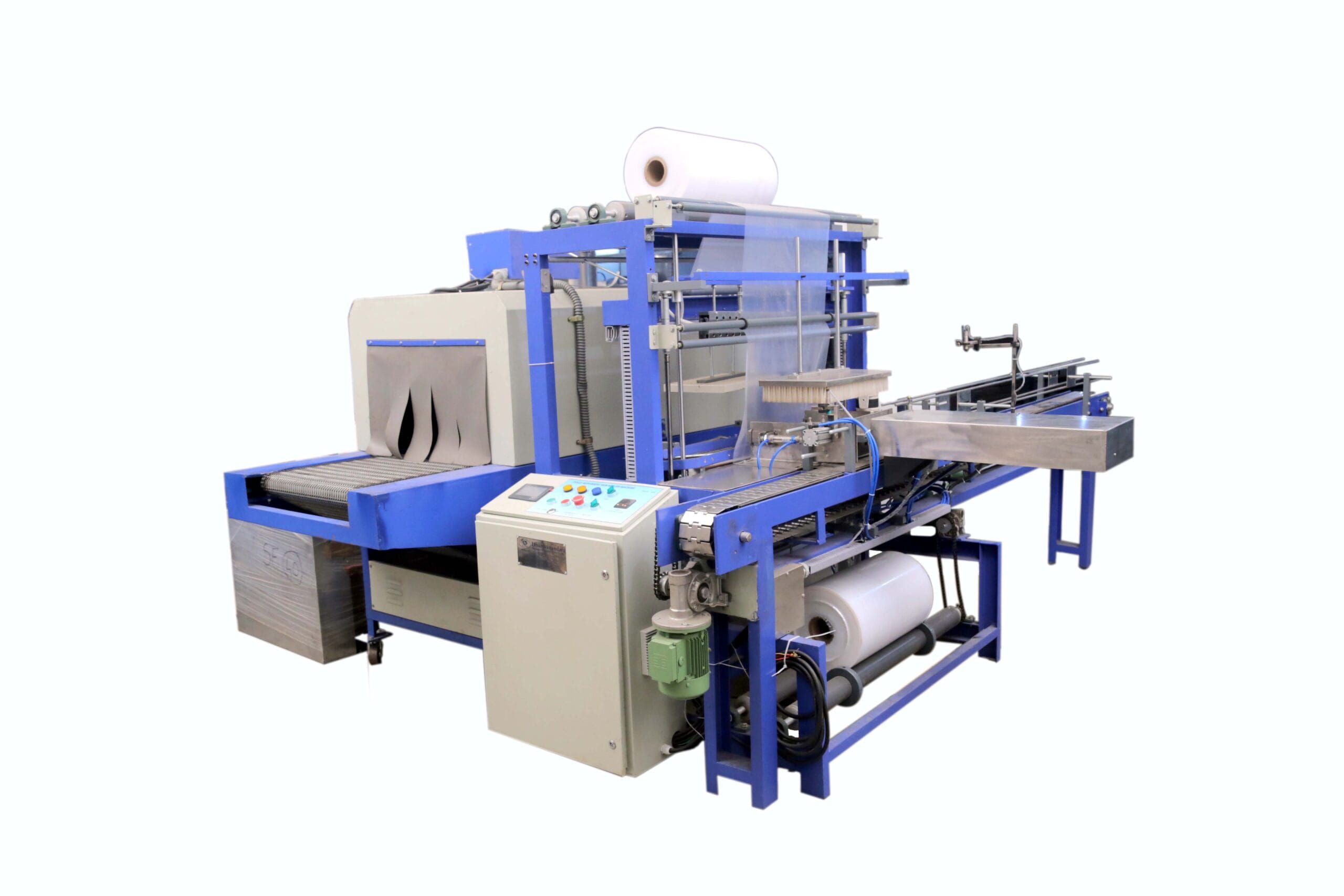 Product Details -DTPPL/SWM/FA-60BPM
Product Details - DTPPL/SWM/FA-90BPM
Product Details -DTPPL/SWM/FA-120BPM
Features
Product Details -DTPPL/SWM/FA-60BPM
DESCRIPTION

Model No: DTPPL/SWM/FA-60BPM

Sealing Dimension             

24" (Inch) sealing arm for front sealer.

Power Consumption        

1 KW

Power Supply                       

440V 

Machine Output                 

5 Packs/Minute (12 Bottle)

Infeed Conveyor

This frame is in square pipe.

Sealing Knife                        

Continuously heating Teflon Coated Sealing Knife 16"Long with film Guard.

Pneumatics Parts

Cylinder, Solenoid Valve ,FRL ,Flow Control Valve, Tubing

Heater Specification    

1 KW Tubular Heater for fast heating.

Control Panel                

Contactors, Proxy switch, Rotary switch & Photo Cell with Digital Timer & Digital Temperature Controller AC Drive.

Top Unwinding                  

Auto unwinding with Pneumatic Cylinders

Film Carriage Roller   

Fully Stainless Steel material with buffing

Air Consumption              

Constant Air Pressure 100 PSI

Conveyor Belt                   

MS Plated Chain CONVEYOR

TUNNEL CONVEYOR

Motor

1 HP AC Motor

Tunnel Opening                  

24" W x 20" H

Heater Specification     

600mm Long 1 KW Stainless Steel tube fined heater.

TOTAL DIMENTION                                                                               (Web-Sealer With Shrink Tunnel)

3350mm (L) x 825mm (W) x 1900mm (H)

Ac Motor  Specification

1 HP 2800 RPM motor with 7" Impeller

Cooling Zone                        

Cooling Fan for Fast Cooling.

Idler Conveyor                   

For Idling the Product

Client Scope

3Hp Air Compressor

Infeed Conveyor Line

SINGLE
Product Details - DTPPL/SWM/FA-90BPM
Product Details -DTPPL/SWM/FA-120BPM
Features