Sticker Labelling Machine
This is one of the most user friendly. The Machine incorporates latest sophisticated Micro Processor Control Label Dispensing system with user friendly sensing system for label and product.
The Automatic model is equipped with roller spacing device resulting in a simple to "No change parts required." The is built automated label length detection systems eliminates any need for manual feeding and storing of label length data in memory and retrieving the same every time for change of label size and re-starting the machine. The system thus saves valuable time, avoiding machine-down time, and helps to achieve higher production.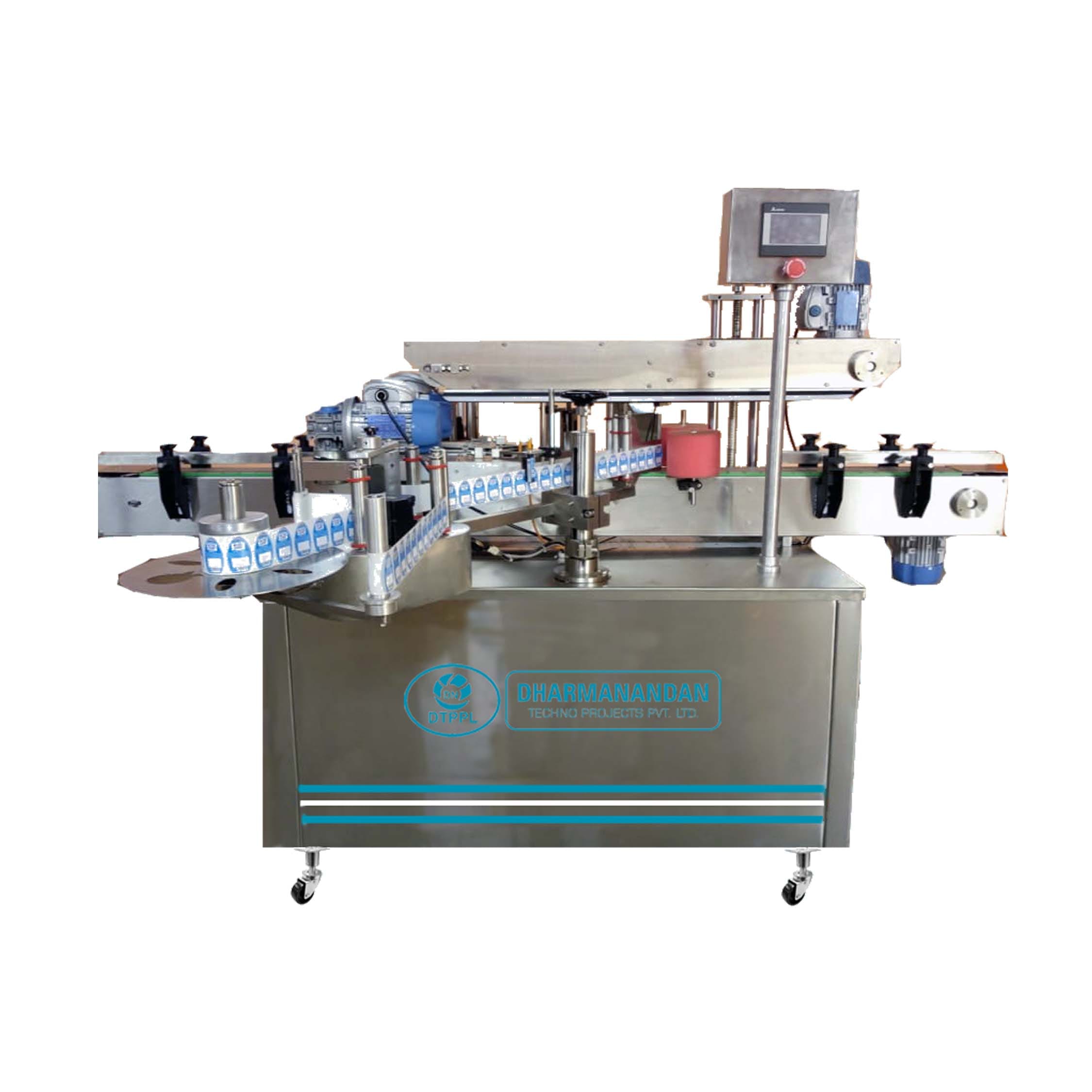 Product Detail 90BPM (ONE SIDE)
Product Detail 120BPM (ONE SIDE)
Product Detail : AUTOMATIC STICKER LABELING MACHINE – ROUND BOTTLE
Product Detail 90BPM (TWO SIDE)
Product Detail 120BPM (TWO SIDE)
Features
Product Detail 90BPM (ONE SIDE)
| | |
| --- | --- |
| DESCRIPTION  | DTPPL/OST/90BPM |
| Product  | Square Pet Bottle for Mineral Water  |
| Product Size  | Pet Square Bottle : 200ml,250ml,300ml,500ml, 1000ml  |
| Speed  | Up to 90 BPM  |
| Sticker Side | One Side |
| Working Height  | 850±50mm  |
| I/P Power Supply  | 1 Phase, 230 V AC, 50/60 HZ  |
| System  | Stepper Motor & Driver  |
| Power Load  | 1.0 KW  |
| Conveyor Length  | 6 Feet, Chain conveyor  |
| Conveyor Motor & Gear Box  | Motor: 0.5HP  Gear Box : 40:1  |
| Product sensor  | Fiber optics with amplifier  |
| Label Gap Sensor  | Fork sensor  |
| Overall Dimension  | 1830mm L X 600mm W X 1200mm H Approx.  |
| Weight  | 200 Kgs.  |
Product Detail 120BPM (ONE SIDE)
Product Detail : AUTOMATIC STICKER LABELING MACHINE – ROUND BOTTLE
Product Detail 90BPM (TWO SIDE)
Product Detail 120BPM (TWO SIDE)
Features