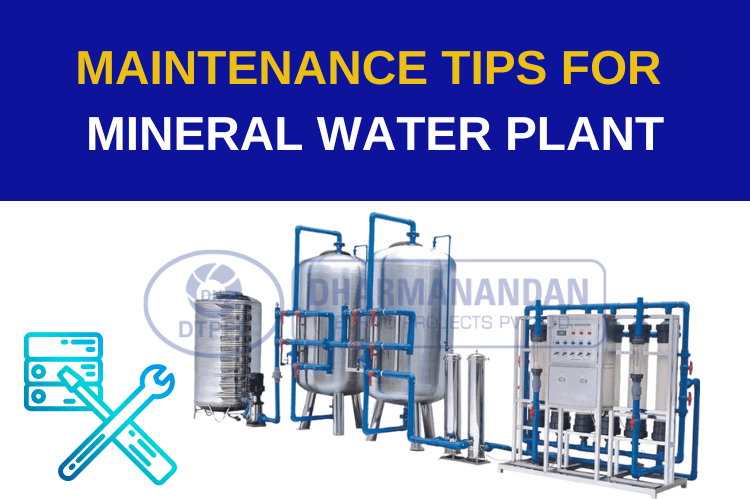 Maintenance Tips For Mineral Water Plant
For any renowned company, it is important to maintain the quality and decorum of business surroundings to ensure the smooth transitioning of work most effectively and efficiently possible. Some certain aspects and procedures are followed in any organization to meet its goals, but it is our responsibility to get the work done cost-effectively and reasonably working in a humongous company like DTPPL comes umpteen number of responsibilities to take care of. Mineral Water Plant and procedures need supervision daily, weekly, monthly, and yearly. 
Here are some maintenance tips:
1. Daily.
For RO Plant, it is important to check Amp. of the main power supply before starting the process to avoid any problems while washing each media vessel like sand, alkaline, and carbon vessels.

Clean floor areas and blow moulding machines to maintain hygiene, quality, and a healthy work environment.

Clean all the moulds with a clean, soft cotton cloth, if the cleaning material is hard or dirty, it might leave scratches or dust particles. 

Drain the water from the air receiver daily to avoid it from rusting.

Air vessels should be cleaned thoroughly.

Check Power Supply, Voltage, pressure, and flow rate and Auto Drain Valve, Water Inlet Temp, and Output Water Temp thoroughly. 

Release all pressure when not in use.
2. Weekly.
Clean all the Micron filters.

Wash storage tanks, including B12 storage.

Oiling and Greasing of essential Parts of the Machine. – Tie Bars, Conveyor Chain, stretching Rod, Brass Bush, etc.

Cleaning exhaust silencers with kerosene or petrol keeps them new and shiny.

Keep the air intake filter clean.
3. Monthly
Check And Change the Micron Filter Spun of Pre Filtration.

Tighten all Fasteners as per required.

Check working condition of all safety valves, belt tension, and alignment, On-Off pressure feature, inter Cooler Fins & cylinders, and Air leakage.

Clean the condenser with an air Blower to remove dust.

Check Alkaline Vessel Media by output water pH. if the pH value decreases constantly, it is time to change the Media.

Check All PU and hose pipe conditions.

Check the oil level of the reservoir tank. If low, top up the level (use hydraulic oil grade 32). During the oil filling, the piston of the reservoir tank should be out of position, and the piston of the locking cylinder should be in position.
4. Yearly
Complete wash of Media Vessels.

Change Carbon Media Every 1 & Half Years. Use coconut shell-based media of 1000IV and above the better quality of water. a Complete wash and dry media before adding in vessels.
Conclusion.
At DTPPL, we keep everything up to date and clean because we believe in giving the best quality and healthy work environment, hence, we keep our maintenance operations in check and regular. Furthermore, this ensures the smooth functioning of the company. We are a leading bottling plant manufacturer with an intricatse mineral water plant and water packaging plant.