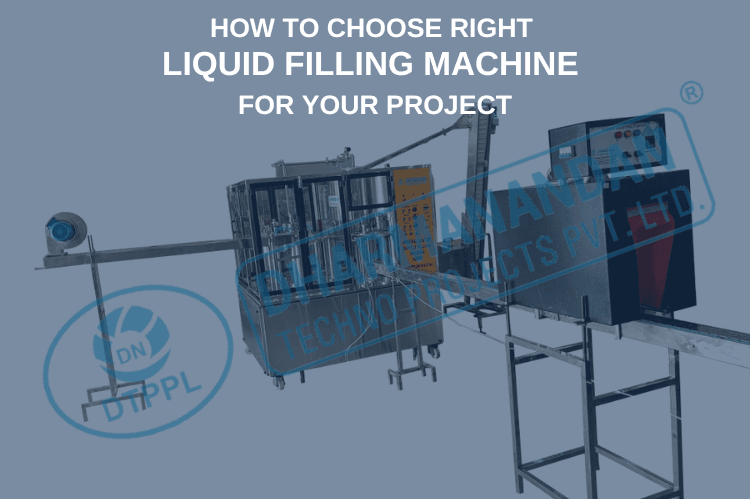 How to choose right Liquid Filling Machine for your project
The primary goal of any business is to achieve optimum level of profits with minimal cost of production which is why choosing the right water bottle filling machine and water packaging machine is crucial. The process of choosing the right machine for water bottle filling is quite amusing and overwhelming, considering a plethora of options available for the same.
We at Dharmanandan Techno Projects PVT. LTD understand the significance of choosing the right water bottle filling and mineral water packaging machine for your business. Let's dive in the world of Liquid Filling and Packaging Machines. The basic parameters to be taken into consideration are as follows-
Type of Product
To install the right liquid filling and packaging machine, it is essential to know the type, viscosity and nature of liquid products to be filled in and accordingly the machine should be installed. The machine for Mineral water filling and packaging is different from the machine to fill liquids such as juices and beverages.
Liquid Filling Machines
It is extremely essential to figure out how you wish to fill the bottles by the machines.
There are different types of Liquid Filling Machine-
Liquid-Level Fillers
Liquid level fillers fill each bottle at the pre-determined level, though its volume might differ from bottle to bottle. This liquid filling machine is cost effective.
Overflow Fillers
Usually liquid level filling and packaging machines use overflow fillers as the capacity and the speed of filling liquid in the bottle is exceedingly fast. This is preferred for liquids with wide range of viscosities. Any left over during the process is pushed back into the tank to avoid wastage and spillage.
Mineral Water Bottle Filling Machine
Mineral water bottle filling machine have been segmented into different categories based on BPM- Bottle Per Minute. This signifies that how many bottles are filled by bottle filling machines in a minute. There are different range of Mineral Water Bottle Filling Machine based of its BPM capacity.
Mineral water bottle filling machine with 24 BPM capacity is Mechanical and Pneumatics and has a size of 4.5 meter or 15 feet roughly. The bottle size ranges from 200-2000 ml, with an output of 1440/hour( for 1 litre).
Mineral water bottle filling machine with 40 BPM capacity has 6 rinsing and filling heads with 3 capping heads, sizing 7.5 feet and weighing 1400 kgs approximately.
Mineral water bottle filling machine with 60 BPM capacity has Robust construction that caters you with superior level performance and has an exceptionally longer functional life.
Mineral water bottle filling machine with 90 BPM capacity has 18 Filling and Washing Heads with 6 Capping Heads. It functions smoothly and is essentially hassle-free.
Mineral water bottle filling machine with 120 BPM capacity has hassle free functioning life. It works at low power consumption and requires minimal maintenance.
Mineral water bottle filling machine with 150 BPM capacity is crafted with a durable and a compact design that is anti-vibration and noise absorbing.
This machine is appreciated for its hygienic bottle capping method, superior finishing, well built body, corrosion proof finishing and low electricity consumption rate.
Level of Automation
The level of automation in a Liquid Filling Machine are-
Semi-Automatic Liquid Filling and Packaging Machine: It needs more man power and manual energy as all the bottles are supposed to be placed and removed continuously. This decreases the production levels.
Automatic Liquid Filling and Packing Machine: The entire process from positioning, filling, capping, labelling and sealing is executed automatically. It increases the efficiency by reducing manual inputs.
Installation Space :- Installation space plays a huge role in choosing the right liquid filling and packaging machine. Based on production scale and budget, choose the appropriate machinery that gives you optimum output to meet your production levels.
Note: Kindly make sure to obtain warranty for your machinery. In case of default, it comes to your rescue and saves the company from bearing additional cost.
CONCLUSION
It is advisable to invest in Automatic liquid filling and packaging machine as it increases the potential to produce on large scale. It leads to augmentation in production levels, precision and consistency, we, at DTPPL a leading mineral water plant manufacturer make sure you use right machines and techniques, in the most effective and efficient way.