How does packed drinking water manufacturing facility work?
The demand for packaged drinking water is multiplying each year. With the advent of technology and automation, the packaging of mineral water production lines today has become entirely automated and is heading towards sustainability.
Let us know how does packed drinking water manufacturing facility actually work?
The bottled water manufacturing process illustrates the stages it undergoes from filtering to the final packaged bottle. The flow chart of its manufacturing process is as follows:
Phase 1
Water Treatment
-Raw Water Pump
-Mechanical Filter 
-Activated carbon filters 
-Water softener system 
-Precision filters 
-Reverse osmosis system
-Ozone system
-UV light sterilizer
Phase 2
Filling and packaging
-Air conveyor 
-Water bottling machine 
-Cap feeder machine 
-Bottle blow dryer
-Laser coding machine 
-Self-adhesive labelling machine 
-Shrink sleeve label machine 
-Shrink wrap machine 
-Pallet wrapping machine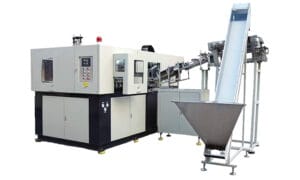 -Automatic bottle blow molding machine
-Semi-automatic blow molding machine
-Air compressor 
-Water chiller 
-Air dryer 
-Air filter 
-Mold temperature controller 
-Air storage tank
Water must be free of any contaminants that deteriorate its quality, reduce its shelf life, and pose a threat to consumers. Hence, it is first filtered through various machines.
To maintain the quality of water, a reliable container is essential. The air used in the bottle blower to turn the pre-forms into the final PET bottle must be free of toxins or contaminants. Also, the water used to rinse PET bottles must be free of contaminants; its filtration ensures good quality of the bottles prior to filling. Bottle blowing is undertaken in phase 3 using PET bottles, where it is molded using necessary temperature and made eligible to store water for a stipulated time. 
DTPPL has been the leader in the water plant and mineral water bottle packaging industry since more than a decade. We aim to deliver the best and most tested bottled water production solutions that help reduce manufacturing costs in the blowing process, bottle design, and packaging bottle durability while enhancing bottling quality.
Our packed water manufacturing process:
– Reduces costs with flexible and avails lightweight packaging solution
– We have High-speed, high-convenience transmission system
– Possesses High resource consumption rate, has low energy emission reduction, and works towards sustainable development
– All our machines are automated and laded with high-yield capacity that cater to your production needs and delivers desired output on time.


DTPPL is an ISO certified Mineral Water Plant Supplier, leading in Mineral Water Bottle Making Machine, and PET Blow Moulding Machine.
Connect with us today for all water plant & water bottle manufacturing related queries & set up.